Manual Trolleys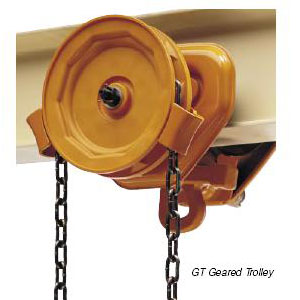 We carry Harrington Hand Push Trolleys and Harrington Hand Geared Trolleys for use in moving loads that are infequently handled.
Mounting of Hoist Trolleys
Harrington hand push trolleys and Harrington hand geared trolleys can be mounted on Spanco jib cranes, Spanco gantry cranes, hand push bridge cranes or monorail systems to provide coverage in a specified work area. Because of their portability, Harrington hoist trolleys are an ideal tool for service vehicles where lifting and rigging in the field are required. With no electrics, low cost investment and excellent spotting capabilities, the Harrington hand push trolley and Harrington hand geared trolley is an invaluable tool for industry.
Harriington hoist trolleys help you maneuver loads easily on your most demanding lifting operations. They feature specially designed contoured wheels able to operate on "S" beam or "W" beams and ensure reliable tracking. Sealed ball bearings provide smooth operation and reduce maintenance tasks.
The Harrington hand push trolleys and Harrington hand geared trolleys include a unique dual purpose suspender. The suspender can be used to hook a top hook of a hoist to, or can be installed to offer a lug type connection. On the hand geared trolleys, the standared hand chain drop is 8'. Options for longer hand chain drop are available when ordering.
Outstanding features of the these push trolleys include:
Sure trolley tracking with specially designed contoured wheels that fit both tapered (S) beams and flat-flange (W) beams.
Maintenance-free, sealed precision ball bearings are lubed-for-life and offer smooth movement, with low friction and long life.
Strong engineered design offers compact design and light weight.
Trolleys are adjustable to fit a wire variety of beam flange widths.
Load equalizing suspension distributes the load to all wheels equally, preventing wheel overload conditions.
Hand push trolley is ideal for longer traversing distances.
Hand geared trolley is ideal for shorter traversing distances and precise load control.