Radio Control Crane / Hoist Handling Systems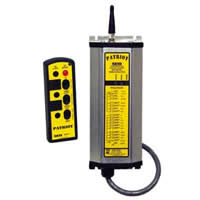 Radio control systems are easy to wire and with their compact size easy to install. Radio control systems offered on Loadhook.com do not require a FCC license and produce a radio signal that does not require "line of sight" as is the case with infer-red radio controls.
A radio control system can improve safety in your facility by allowing the crane and hoist operator to stand away from the lifted load. This allows one man with a radio control to walk around a large load making sling connections and have the ability to adjust the load hook at any location. From up-time and maintenance perspective, by removing the push button station and pendant from a crane or hoist and installing a radio, you will reduce down-time on your hoisting equipment due to less control station repairs. The payback on a radio control system can be the cost of one repair.