Lever Hoists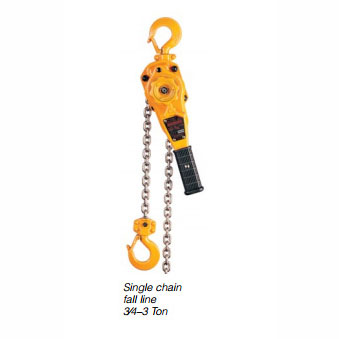 Harrington LB lever hoists have set new standards for the industry. Harrington's LB lever hoists have been redesigned to provide the operator with all the features needed in one lever hoist. The best just got better. As the leader in this hoist market, they studied the needs of many industries using there lever hoists and then designed all of these important features into there new model. For your day to day maintenance and service work or the heavy duty construction jobs, the Harrington LB lever hoist is always the right choice.
Harrington lever hoists are available in 3/4, 1, 1 1/2, 2, 2 3/4, 3, 6 and 9 Ton capacities and have top hook suspensions and lifts of 5′, 10′, 15′ and 20′ available on-line. Other lifts are available.
Product Brochure – Download
Product Manual – Download
Outstanding advantages & features of the Harrington LB lever hoist are:
Improved Design.
Compact Size.
Lighter weight.
Lower headroom.
Easy to operate, transport and store.
Trouble free maintenance.
Forged and heat-treated alloy steel hooks are designed to open slowly and not fracture under excessive loads.
Dependability
Heavy-duty all steel construction.
Weston-style mechanical load brake.
Spring-loaded free wheel mechanism.
Nickel-plated grade 100 heat treated load chain for corrosion resistance.
Benefits and Capabilities
Forged and heat-treated alloy steel hooks open slowly without fracturing under excessive loads.
Top and bottom hooks rotate 360 degrees.
Operate in close quarters with short steel handle and 15 degree recovery strokes.
Handle equipped with standard rubber grip for non-slip operation.
Patented spring loaded freewheel mechanism permits easy adjustment of the load chain and safeguards against accidental freewheeling under load.
Rugged all steel construction that actually weighs less than comparable aluminum models.
Weston-style mechanical load brake incorporating two moisture resistant brake pads with four braking surfaces. Includes two brake pawls for additional reliability
Options
Slip Clutch.
Load Limit Warning Handle
Top Hook Extender
Point load / Shipyard hooks
Before completing your purchase from the Loadhook.com Store, check out shipping policy and other Loadhook.com customer service information.