"300" Series - Wall Cantilever Jib Cranes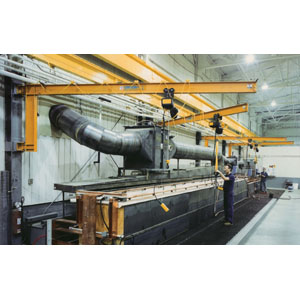 Spanco "300" Series Wall Cantilever Jib Cranes offer an economical solution to moving and lifting heavy loads in a specified work area. Their low cost and ease of installation make the Wall Cantilever Jib Crane a great ergonomic tool for workstations, machining centers, assembly areas and maintenance shops. The Spanco Jib Crane is the standard for design in the industry, and for over 30 years have been designed to provide dependable, durable lifting solutions built in accordance with CMAA, AWS and OSHA.
The Spanco "300" Series Wall Cantilever Jib Cranes are available on-line from 1/2 ton to 5 ton capacity and spans up to 30'.
These high quality jib cranes consist of top and bottom wall mount brackets, and a fabricated boom section that provides higher load hook elevations over the tie rod style jib cranes. The top and bottom wall brackets utilize a formed steel channel with two bronze bushings, bronze thrust washers, with bolted connections in double shear. All swivel connections utilize bronze bushings and grease fittings to ease rotation, promoting long life and low maintenance. Jib cranes are easy to install and because of the hundreds of standard designs and efficient manufacturing techniques, you are just a short time away from realizing the benefits of lifting with a Spanco jib crane.
Outstanding features of the Spanco Steel Constructed "300" Series Jib Cranes are:
Provides 200 degree rotation for maximum hook coverage
Offers maximum under-boom clearance because it can be installed more closely to the ceiling than other wall mounted styles.
Allows maximum usage of the work area both vertically and horizontally.
The wall cantilever jib crane is one of the most economical styles, provided overhead clearance of building column strength is not a limiting factor.
Quick and easy installation, and easily re-locatable in the future.
Optional equipment available includes tagline festoon and rotation stops.
No products were found matching your selection.