Hand Chain Hoists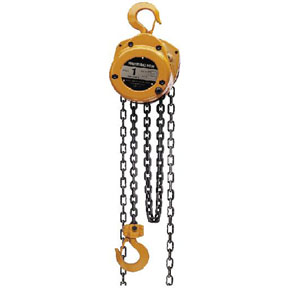 We carry a wide selection of hand chain hoists including Harrington hand chain hoists. Hand chain hoists are a lower cost solution to electric chain hoists and are suited for lighter weight lifting tasks.
A hand chain hoist is a flexible lifting tool that can be top hook suspended, push trolley suspended or hand geared trolley suspended to serve a variety of hoisting applications. They are a lower cost solution over an electric chain hoist and are suited for use in maintenance shops, light duty assembly operations, field tools, maintenance tasks and general lifting applications found where light weight, infrequent operation and portability are important.
Hand chain hoists can be mounted on Spanco jib cranes, Spanco gantry cranes, hand push bridge cranes or monorail systems to provide hook coverage in a specified work area. Because of their portability, hand chain hoists are an ideal tool for service vehicles where lifting and rigging in the field are required. They are also well suited for hand pushing such as is found with push trolleys operating on Spanco jib cranes, Spanco gantry cranes and hand push bridge cranes. With no electrics, low cost investment and excellent spotting capabilities the hand chain hoist is an invaluable tool for industry.
Here at Loadhook.com you can purchase Harrington hand chain hoists on-line along with push trolleys and hand geared trolleys. Other brands will be available soon. If you require assistance, please contact Loadhook.com and ask to speak to an application engineer who will be glad to answer your questions and guide you through the selection process.
Before completing your purchase from the Loadhook.com Store, check out shipping policy and other Loadhook.com customer service information.