Harrington Electric Chain Hoists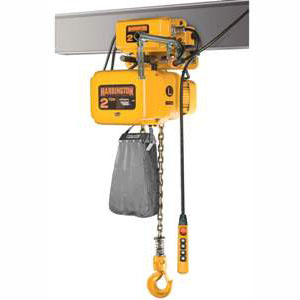 Harrington electric chain hoists were designed using the latest technology. The results are high quality, low-headroom, full featured electric hoists that provide daily reliable performance in both routine workplace situations and severe working environments.
These electric chain hoists are available with top hook suspensions, hand push trolleys and motor driven trolleys. They can operate on 208-230/460 volt 3 phase power or 115/120 volt 1 phase power and are complete with easy to use one-handed operation push button stations. You can choose from single speed or two speed units. An optional chain container is available. Our product offerings online range from 1/8 ton to 5 ton.