Yale KEL Electric Chain Hoists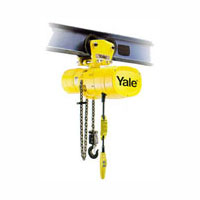 Dependable Yale KEL electric chain hoists are the industry standard for chain hoist lifting applications up to 3 tons. Their rugged, yet light weight construction is engineered to stand up to the rigors of repeated lifting cycles. Their compact design affords more headroom and higher hook lifts. Economical to purchase and operate, Yale hoists are easy to service and require minimal maintenance.
These electric chain hoists are available with top hook suspensions, hand push trolleys and motor driven trolleys. They can operate on 208-230/460 volt 3 phase power or 115/120 volt 1 phase power and are complete with easy to use one-handed operation push button stations. You can choose from single speed or two speed units. Chain containers are included in the base price of these hoists. Our product offerings online range from 1/4 ton to 3 ton.