Electric Chain Hoists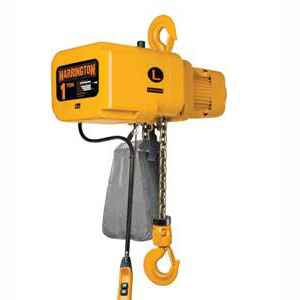 View Push Trolleys and Hand Geared Hoist Trolleys to complement your chain hoist.
Electric chain hoists are efficient lifting tools that can be top hook suspended, push trolley suspended or motor driven trolley suspended to serve a variety of hoisting applications. They are a lower cost solution over wire rope hoists and are suited for use in machine shops, assembly operations, work stations, maintenance tasks and general lifting applications found throughout the manufacturing, distribution and service industries.
An electric chain hoist can be mounted on Spanco jib cranes, Spanco gantry cranes, bridge cranes or monorail systems to provide hook coverage in a specified work area. They are well suited for hand pushing such as is found with push trolleys operating on Spanco jib cranes, Spanco gantry cranes and hand push bridge cranes. Operating speeds can range from 5 FPM up to 65 FPM depending on hoist capacity, with lighter capacities operating at faster speeds and higher capacity units operating at slower speeds. Most electric chain hoists and motor driven trolleys can operate at single speeds, two speeds and variable speeds. Specific applications call for various speeds. Please consult with a Loadhook.com application engineer if you have questions regarding your chain hoist requirements.
Here at Loadhook.com you can purchase Harrington electric chain hoists and Yale electric chain hoists on-line, with other brands to follow soon. You will find a comprehensive selection of hoists with options pricing on-line for creating custom electric hoist configurations that suit your lifting applications. If you require assistance, please contact Loadhook.com and ask to speak to an application engineer who will be glad to answer your questions and guide you through the selection process.
Before completing your purchase from the Loadhook.com Store, check out shipping policy and other Loadhook.com customer service information.